Get Student Centered When it Comes to Teaching Categories, Processes and diagrams
---
Get Student Centered When it Comes to Teaching Categories, Processes, and Diagrams
---
For tactile learners, there are an incredible amount of opportunities for mastering subjects. Concepts involving categorization, processes, and diagrams are just a few different ways tactile learners can use their strengths to learn. The thing is, teachers can completely waste this opportunity by delivering dry lectures using pencil and paper or textbooks with one dimensional texts and pictures. True, we all know the dangers of sage on the stage, but educators can easily overlook objectives ripe for student centered learning by overlooking keywords that can make a lesson ideal for this kind of learning when your teaching involves categorization, processes, or diagrams.
Here are a list of keywords to look out for!

Steps
Process
Structure
Formula
Category
Kingdoms
Realms
Sections
Quadrants
Draw
Outline
Illustrate
Illustration
Displayed
Representation
Let's get ready to flip our classrooms when teaching concepts to students that fall into categories with these examples:
When a lesson involves a process it is easy to have students memorize the steps. Inititally, you should have students handle each step of the process and move them to the correct order.
For this you can use mcSquares Tiles, Stickies, or Tablets. But if you don't have mcSquares at your disposal you can use a variety of other tools from index cards to moving modules on your smartboard.
Each student is given a jumble of squares. On a basic level, have students sort terms on the squares in the order of the process. You can further this learning by including the title of the step on one card. Have the definition or what happens in that step on another card. For example, have a history lesson and want to show students the sequence of events? Include the big event on one square, a description of what happened on another, then a square with the year. Students then have to find all three matching squares for their event, year, and event description. Then a description of what happened that year on the other square.Then students have to complete two levels of sorting.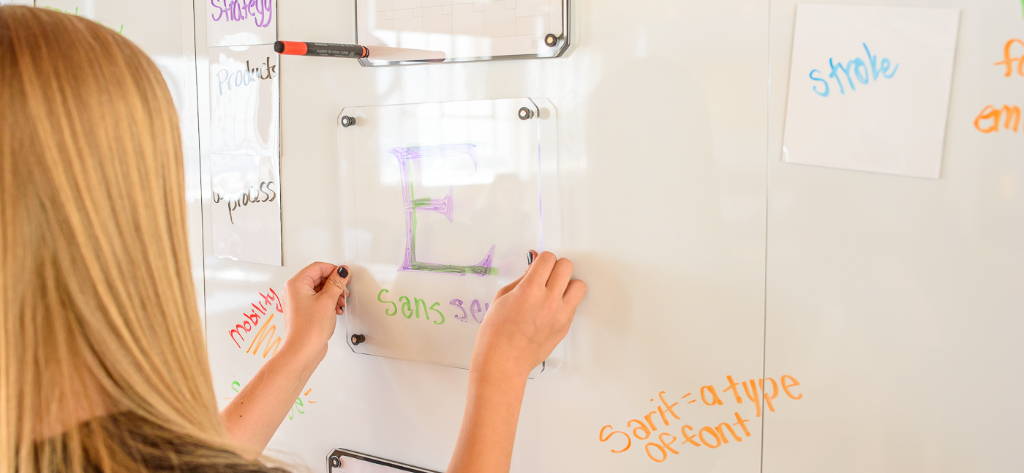 Having students group similar things together is a concept addressed in almost every subject in every grade level. There are many possibilities for using tactile tools to categorize like things. For example, I distinctly remember sorting out colored beads in Kindergarten.
Physically move like items that are written or drawn on an mcSquare (or other medium) into the same group.
Take this up a notch and create a unique sorting scheme! For example, use different colors on an mcSquare tablet to categorize different types of literary devices within a poem. Have students work in groups to identify operators within word problems categorizing those into the math equation they need to solve.
Reinforced interaction comes when students are able to both write content and then organize the subject matter. This allows students to interact with specific content twice during a learning session.
This is my personal favorite. Any opportunity to turn a one dimensional picture or text into a real life model is a chance to get your students physically handling the concept being taught.
For example, diagraming a cell. Have each student layer their mcSquares tablets on top of each other to make a 3D diagram of a cell structure. Then, have students diagram the Earth's layers or layers of the Earth's atmosphere. Combine diagramming with categories where students have to sort out the attributes of each piece alongside a visual drawing that matches.
---
We want to hear from you. How do you know when you need to break out the tactile tools to increase student mastery? When you do, what tools and strategies do you use to deliver this content?
Products to Get You Started
About the Author
Travis Lockhart
Travis is a UNC Chapel Hill Alum with a masters in education from UNC Charlotte. He started his career in education where he taught for 2 years as a Teach For America Corps Member in North Carolina. Following this experience, Travis became the HR Manager for a rapidly growing network of non profit charter schools in Colorado. Since then, he has led cloud computing implementation projects for Denver Public Schools, KIPP, and Teach for America and currently is at the University of Colorado. When he's not geeking out about the newest uses of technology, he can usually be found with a cup of coffee in his hand hanging out with his wife, two kids, and two dogs in Boulder, Colorado.
Published by mcSquares | Author: Travis Lockhart | Editor + Page Designer: Katie Botwin
---